Infrared Smart Pressotherapy Lymph Drainage System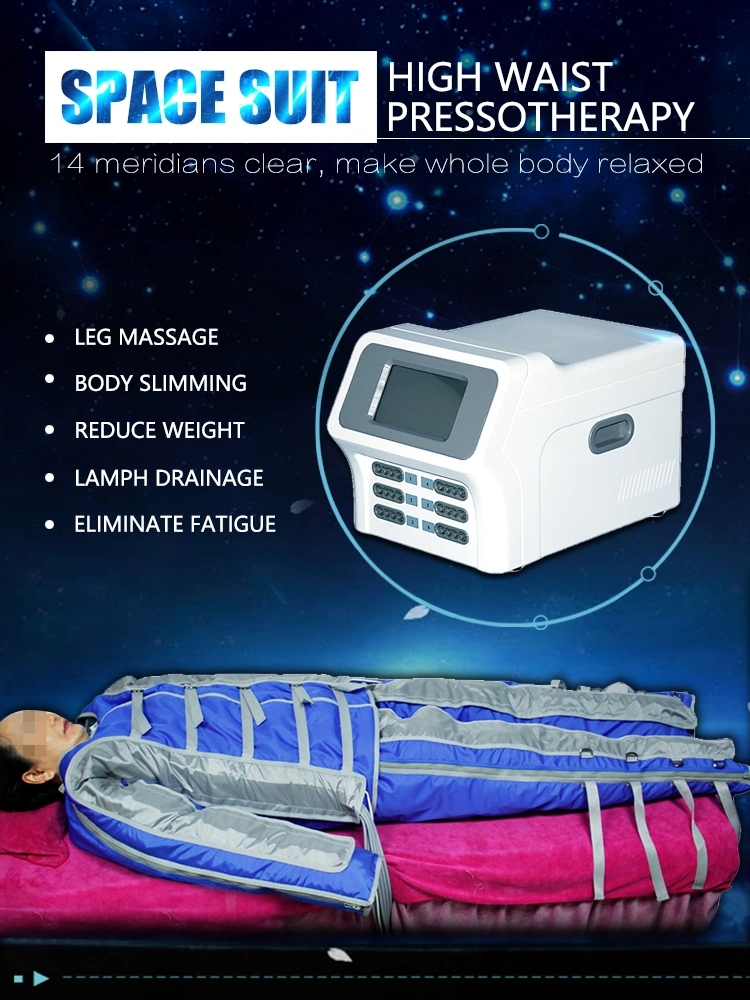 What is The Pressotherapy?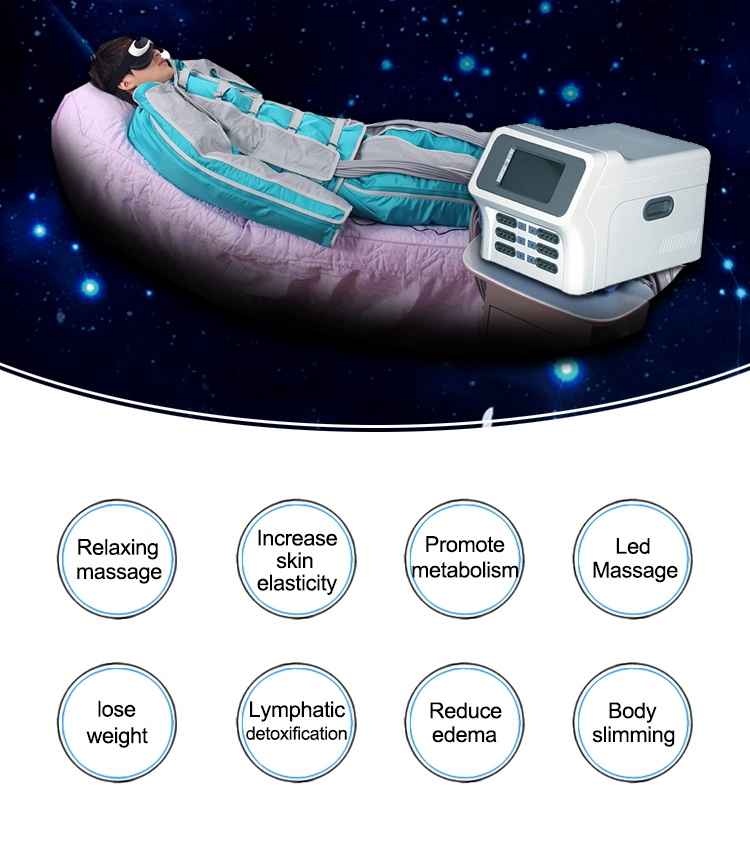 With 5 models, eyes massage function
Pressotherapy is a relaxing and invigorating compression therapy system, designed to help win the battle against cellulite and body aging. It consists of a pump which supplies air to garments worn over the areas of the body to be treated. The pump fills air cells within the garments in a special sequence, alternating waves of compression with brief periods of pause and refill. A state of the art lymphatic drainage massage system providing clients with spectacular results in a short time.
It is used by aesthetic professionals in salons, clinics, and spas. It markedly helps to treat cellulite and with body forming. It is also a necessary tool in studios where cavitation, cryolipolysis or RF treatments are operated. Operation at pressures from 20 to 80mmHg, and offers a wide range of different massage cycles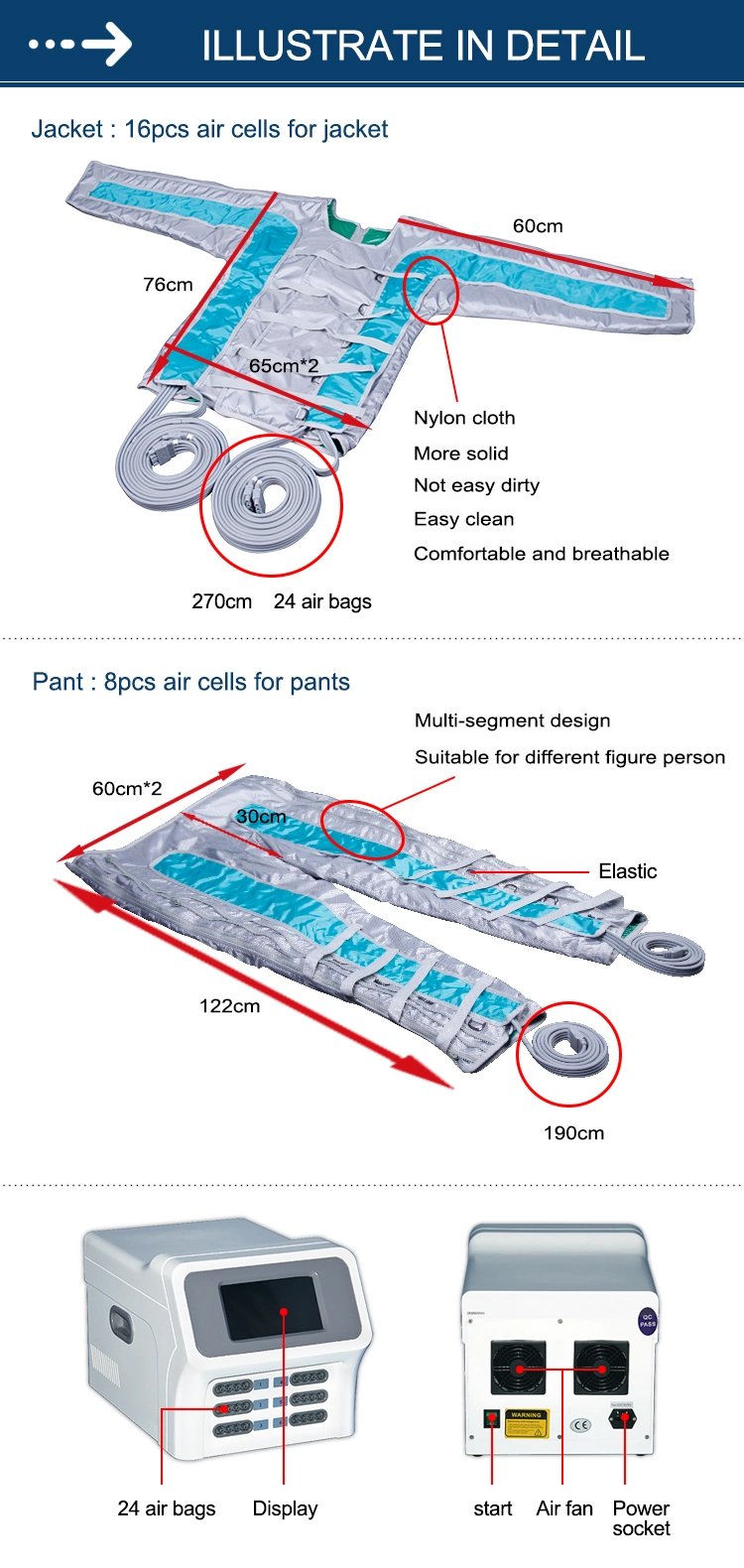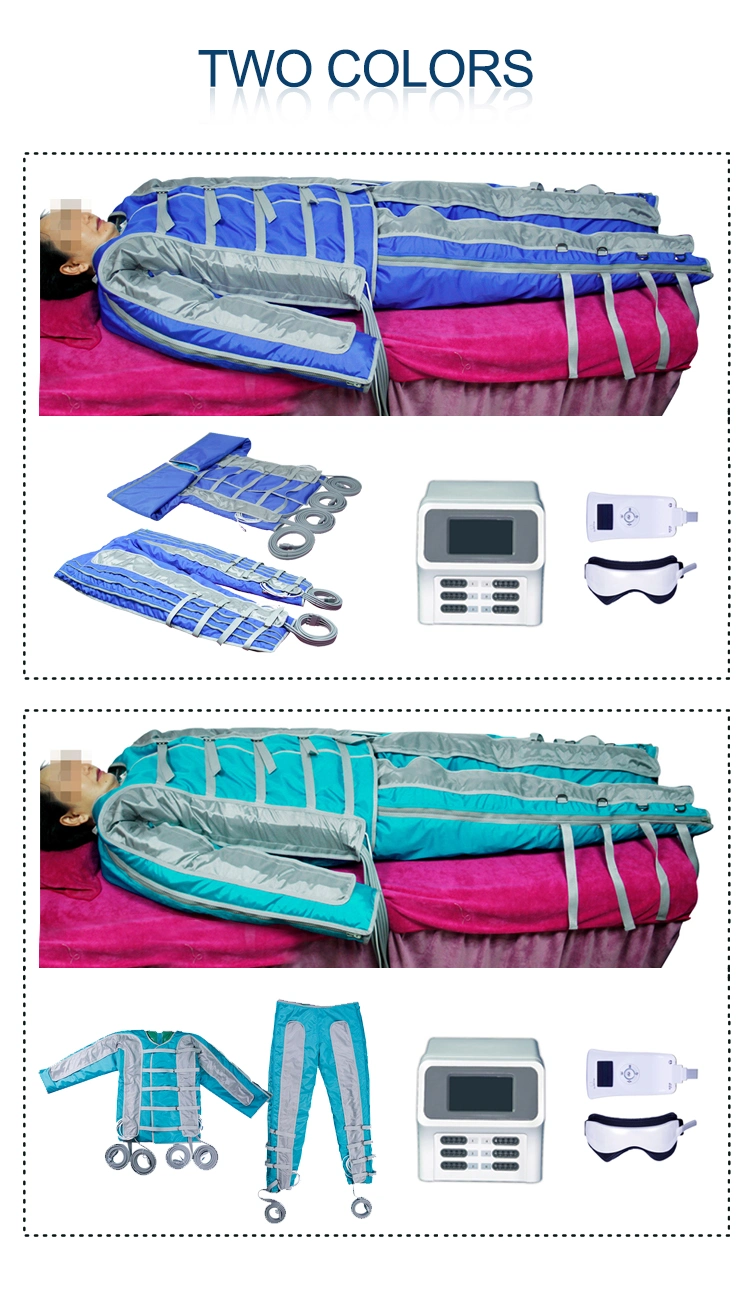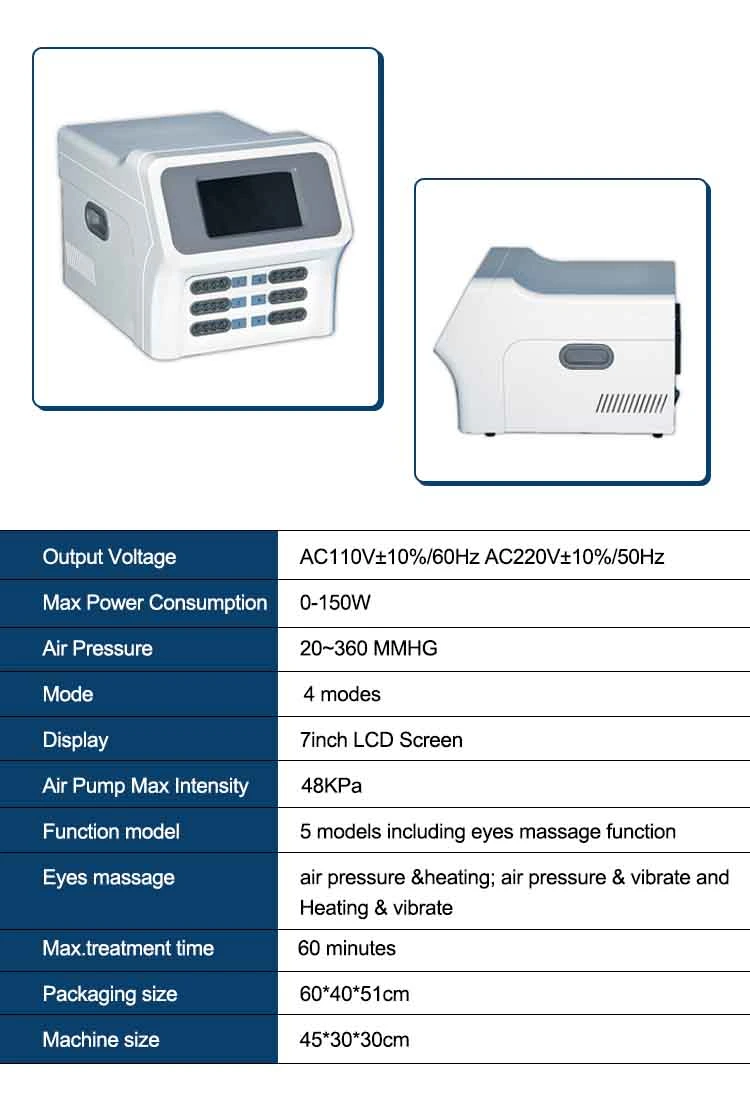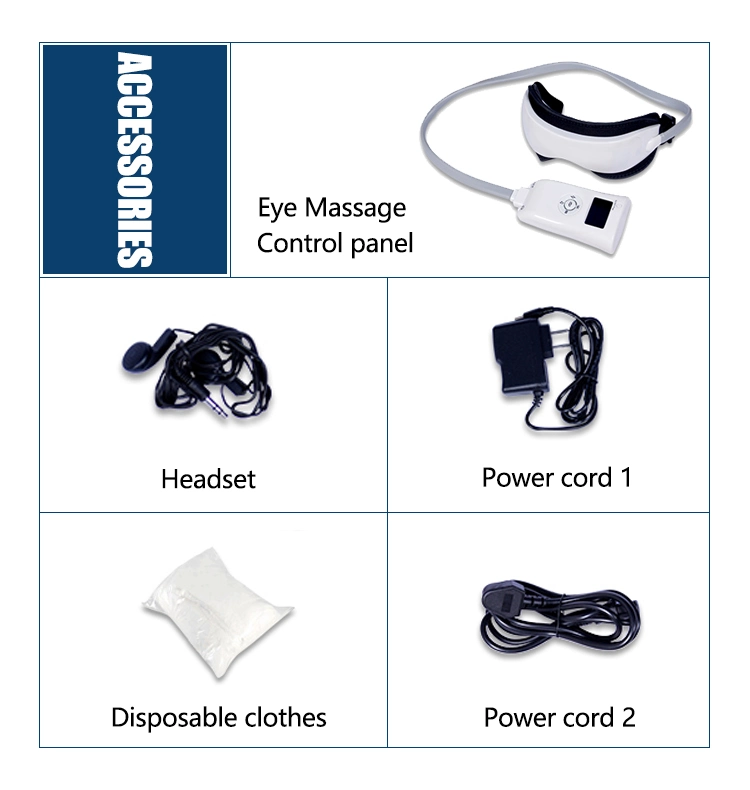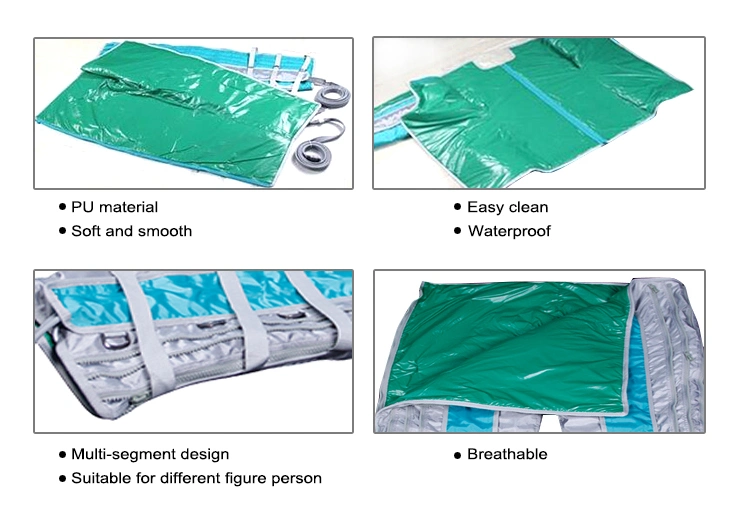 Pants
Treat the entire lower body from the feet to the abdomen. These medical grade pants have 24 fully overlapping compression cells, and provide extremely effective lymphatic drainage. Highly recommended for salon use.
Jacket
24 Cells provide a peristaltic and sequential pressure gradient lymph drainage to massage the upper part of body, arms and back, also soothes sore muscles for ultimate relaxation
How does pressotherapy affect your body?
Circulatory system
The massage will enhance blood circulation by gently applying unidirectional peristaltic pressure on peripheral veins. Blood circulation improved, the elimination of toxins is facilitated and more fresh oxygen reaches skin cells.
Digestive system
It will compress and massage the abdomen. The result is relaxation of the abdominal muscles and at the same time a healthy stimulation of the bowl movements and more efficient evacuation of poisonous content.
Lymphatic system
Lymphatic flow is enhanced. Lymph flow is improved, both in the peripheral and deep lymph nets. The results are the evacuation of metabolic residuals from the interstitial spaces. The immunological system is benefited as well.
Muscles
It massages the muscles. The peristaltic movement relaxes the muscle, drains it from
Excessive liquids that are a product of the muscle effort, thus calming muscles spasms.
Skin
The massage will allow open flow of freshly oxygenated blood to the skin layers. Skin will look better, feel better, will regain its tone and will be firmer visually and physically. If
Treatments are performed regularly, cellulite will be prevented and even eliminated.
Applications:
Plastic surgery - pre/post liposuction (edema reduction, recovery)
Aesthetic salons - cellulite treatments, adjunctive treatment for vacuum roller (vacuomobilization) massage.
SPA/home use - cellulite treatments, massage and relaxation.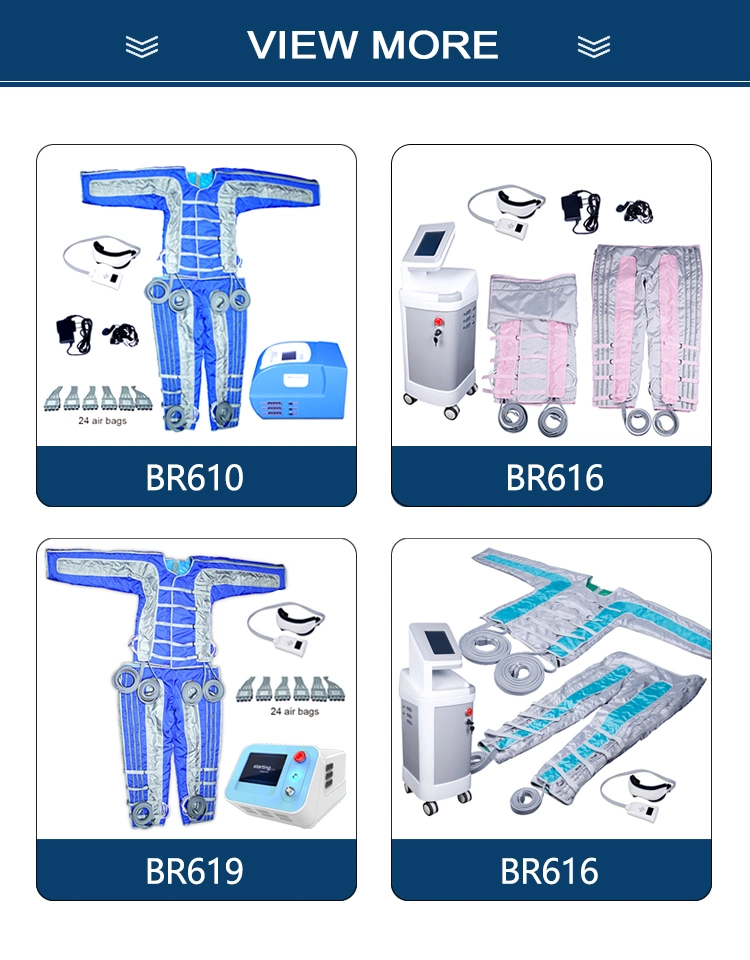 Ø Stimulates collagen strings in deeper levels of skin
Ø Increases the lymphatic flow
Ø Supports the metabolism of skin cells
Ø Lowers the effects of cellulite
Ø Reduces the volume of massaged parts
Ø Increases the skin elasticity
Ø Helps to increase the effects of cavitation and RF treatments
Ø Helps to reduce weight if used periodically
Following the principles of lymphatic drainage ("pressotherapy"), it applies a wave of gently pressure to the subdermal tissue, from ankle to abdomen( jacket is form arms to abdomen). The effect is an increased lymphatic drainage and venous return.
About our company:
Beir, a dynamic company, founded in 2005, is the top suppler of
beauty equipment in Guangzhou, China. Currently, the impressive products on market in clude HIFU, Criolipolisis, Lipolaser, pressotherapy, IPL, E-Light, Diode Laser, ND YAG Laser, Vacuum Cavitation RF and Derma Roller etc. The main market in cludes Europe( with medical CE,ROHS), North America( With FDA register) and Latin -America(ANVISA in Brazil).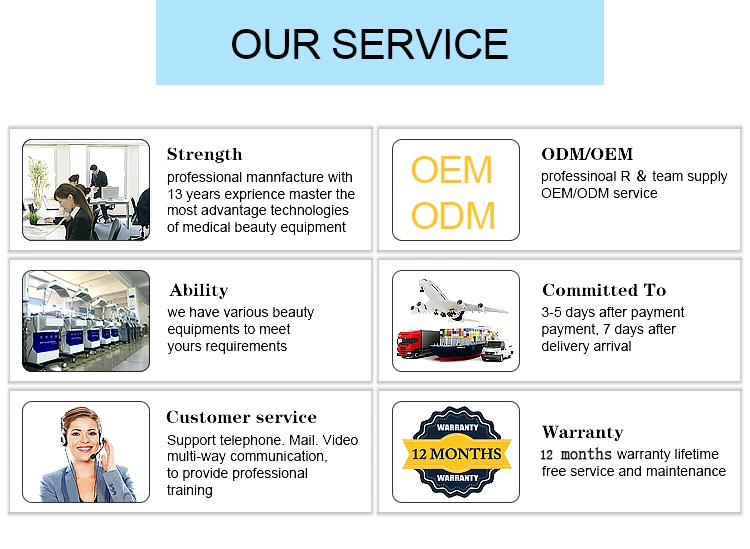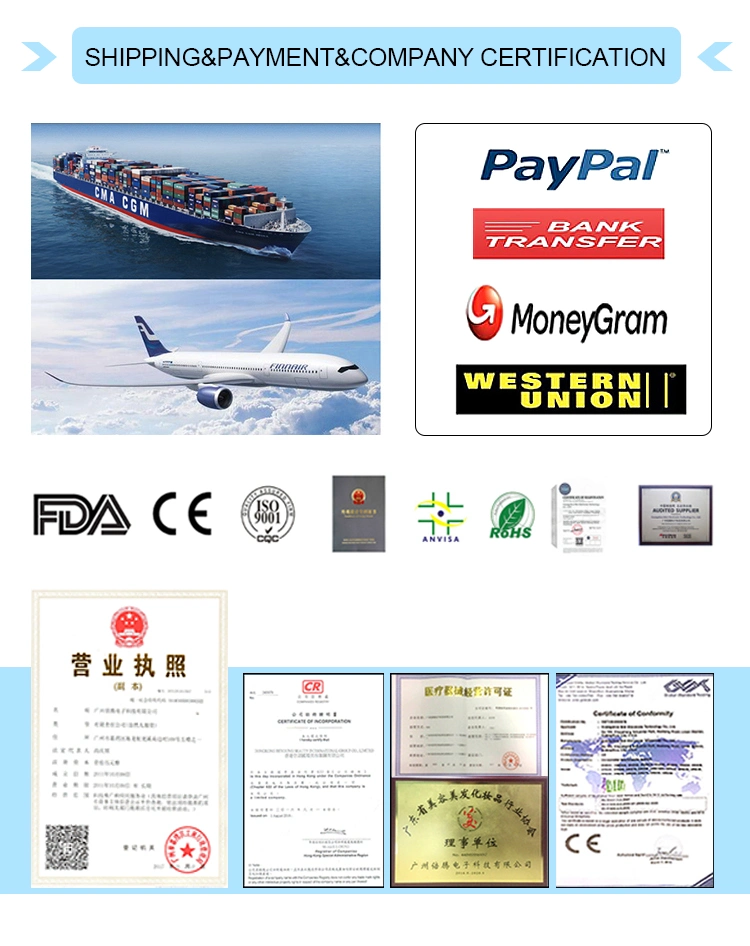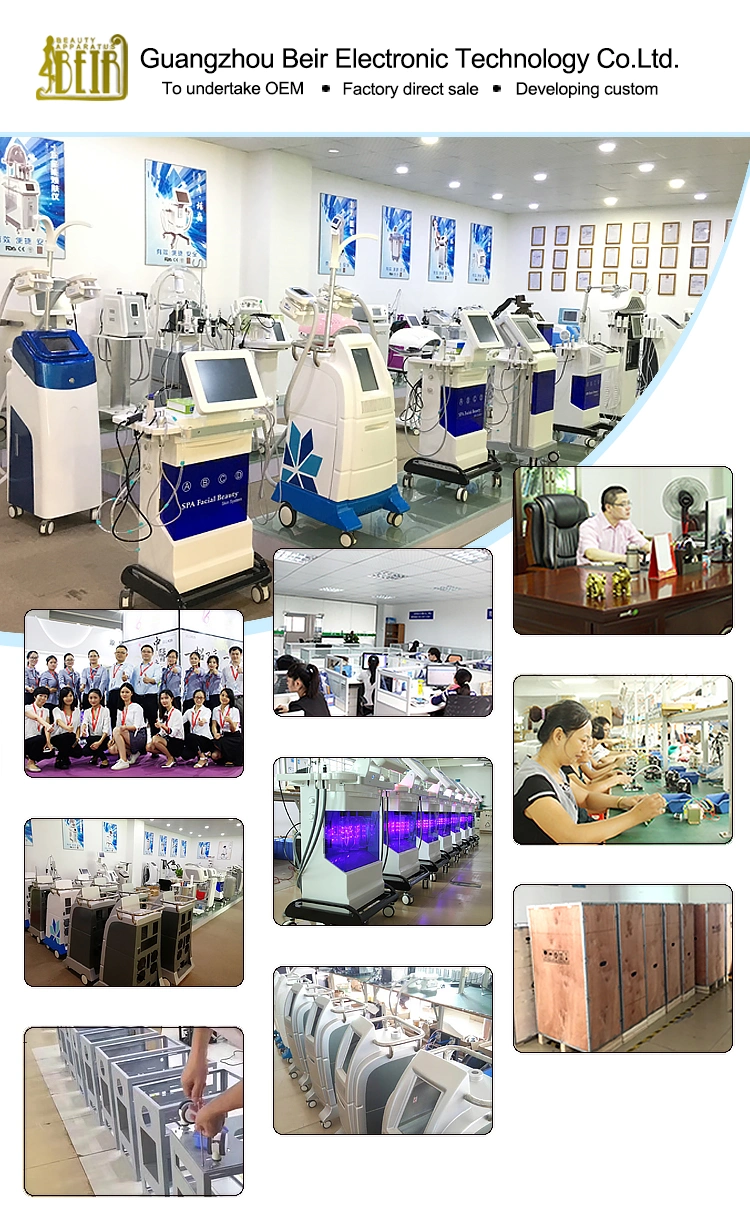 Contact:
Fiona Liu
Guangzhou Beir Electronic Technology Co.,Ltd.
Mobile: +86 18125761689
Web: http://beirbeauty.en.made-in-china.com
http://beirbeauty.en.made-in-china.com
http://beirbeauty.en.made-in-china.com