Stick Box Candle Slow Burn White 38g Wax Candle
Contact--- Lily Tel--- 86 15100137730
Company Information :
Hebei Aoyin is a professional manufacturer and exporter of candle.
Our candles are populated in Africa, Middle-East, South-East Asia, Europe, and South America...More than 30 countries.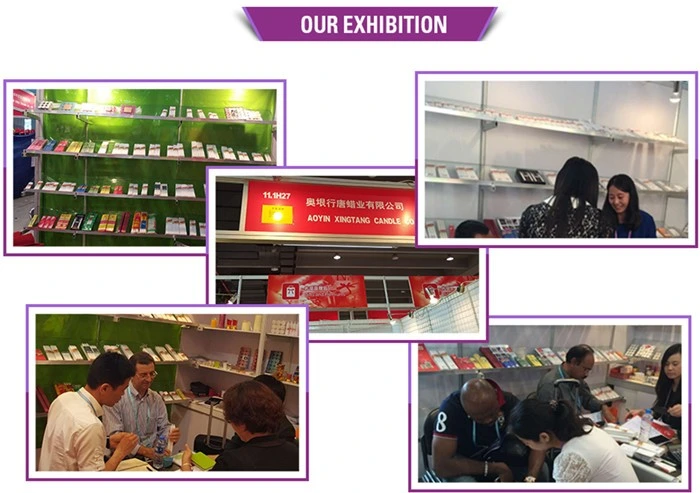 White candle details :
1. Long burning time
2. Long storage period
3. Pure white color
4. Well and High Quality Control
5. Prompt Delivery
6. Any color,
7. Have High melting point(58-60degrees).
8. Weather-resistant...
9. Dripless.
10. Smokeless.
11-float on the water, is best for the backup for the emergercy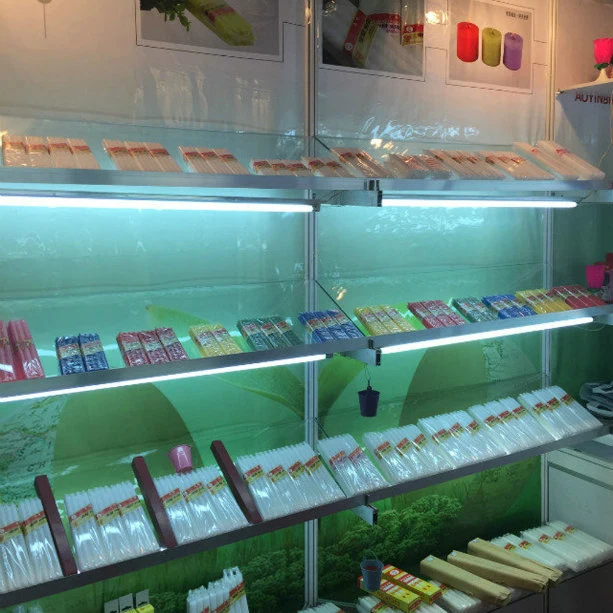 Various gram: 10g--100g
Lenght from 8cm to 26.5cm
Dia 1.2, 1.3, 1.35, 1.45, 1.5, 1.55, 1.7, 1.8, 2.3cm
White candles:
Materials: Paraffin wax, stearic acid
Shape: Plain & pillar
Weight: 14g, 20g, 25g, 30g, 35g, 40g, 45g, 50g, 55g, or as customer's requirement
Color: Green, yellow, white, pink, purple and red
Feature: Scented or unscented
Packaging: 6pcs/bag, 72bags/carton, or as customer's requirement (The shrink warp bag is tied by a rope. )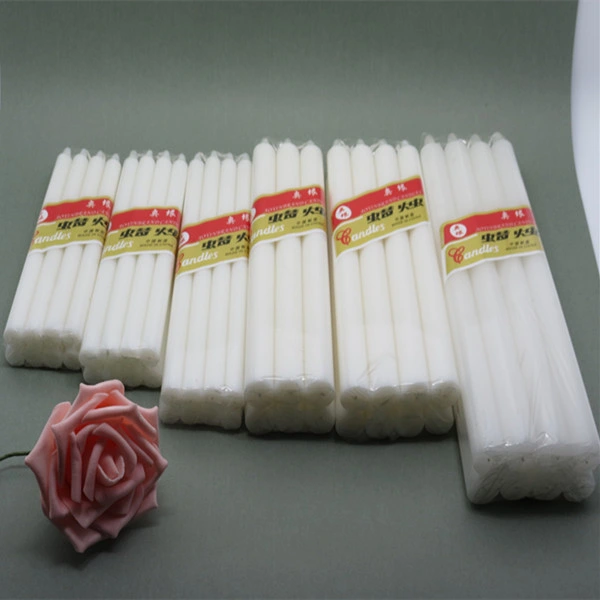 19g D & L: 1.3cm x 17cm 6 PCS/pack, 72pack/CTN. 2300CTN/20'FT
23G D & L: 1.5cm x 20.7cm 8 PCS/pack, 65pack/CTN. 1530CTN/20'FT
25g D & L: 1.5cm x19.5cm 8 PCS/pack, 65pack/CTN. 1450CTN/20'FT
28g D & L: 1.5cm x 20 cm 8 PCS/pack, 65pack/CTN. 1250CTN/20'FT
28g D & L: 2.1cm x 10.6cm 20PCS/box, 32boxes/CTN. 872 CTN/20'FT
30g D & L: 1.6cm x 20.3cm 8 PCS/pack, 65pack/CTN. 1180CTN/20'FT
35g D & L: 1.7cm x 20.2 cm 8 PCS/pack, 65pack/CTN. 990CTN/20'FT
45g D & L: 1.8cm x 23 cm 6 PCS/ bag, 50bags/CTN. 1300CTN/20'FT
58g D & L: 2.0cm x 23.6cm 6 PCS/pack, 50pack/CTN. 1030CTN/20'FT
70g D & L: 2.2cm x 23 cm 6 PCS/pack, 36pack/CTN. 1250CTN/20'FT
95g D & L: 2.4cm x 25.4cm 10PCS/pack, 10pack/CTN. 1260CTN/20'FT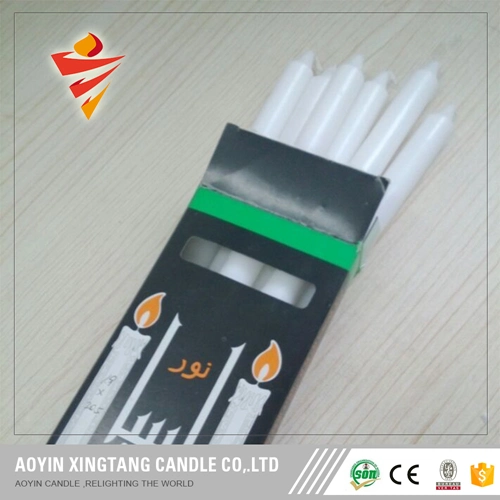 Candle Size :
| | | | | |
| --- | --- | --- | --- | --- |
| Weight/pc(g) | Diameter(cm) | Length(cm) | Packing(pcs/ctn) | Burning time(hours) |
| 10g | 1.2cm | 10.7cm | 10pcs*100packs | 2hours |
| 20g | 1.4cm | 16.1cm | 8pcs*65packs | 3hours |
| 22g | 1.33cm | 20.3cm | 8pcs*65packs | 3hours |
| 23g | 1.4cm | 18.6cm | 8pcs*65packs | 3.5hours |
| 25g | 1.4cm | 20.3cm | 8pcs*65packs | 4hours |
| 28g | 1.5cm | 20.3cm | 8pcs*65packs | 4hours |
| 30g | 1.55cm | 20.3cm | 8pcs*65packs | 4.5hours |
| 35g | 1.7cm | 20.3cm | 10pcs*40packs | 5hours |
| 40g | 1.85cm | 19cm | 8pcs*30packs | 6hours |
| 45g | 1.9cm | 20.3cm | 6/8pcs*40packs | 7.5hours |
| 50g | 2.0cm | 20.3cm | 6pcs*50packs | 7.5hours |
| 55g | 2.0cm | 22.4cm | 6pcs*50packs | 8hours |
| 60g | 2.1cm | 23.8cm | 6pcs*50packs | 9hours |
| 75g | 2.2cm | 24cm | 6pcs*40packs | 11hours |
| 80g | 2.54cm | 20.32cm | 6pcs*30packs | 12hours |
| 85g | 2.54cm | 21.5cm | 6pcs*30packs | 12hours |
| 90g | 2.4cm | 23cm | 6pcs*30packs | 12hours |
| 95g | 2.4cm | 25cm | 6pcs*30packs | 13hours |
| 100g | 2.54cm | 25.4cm | 6pcs*30packs | 14hours |